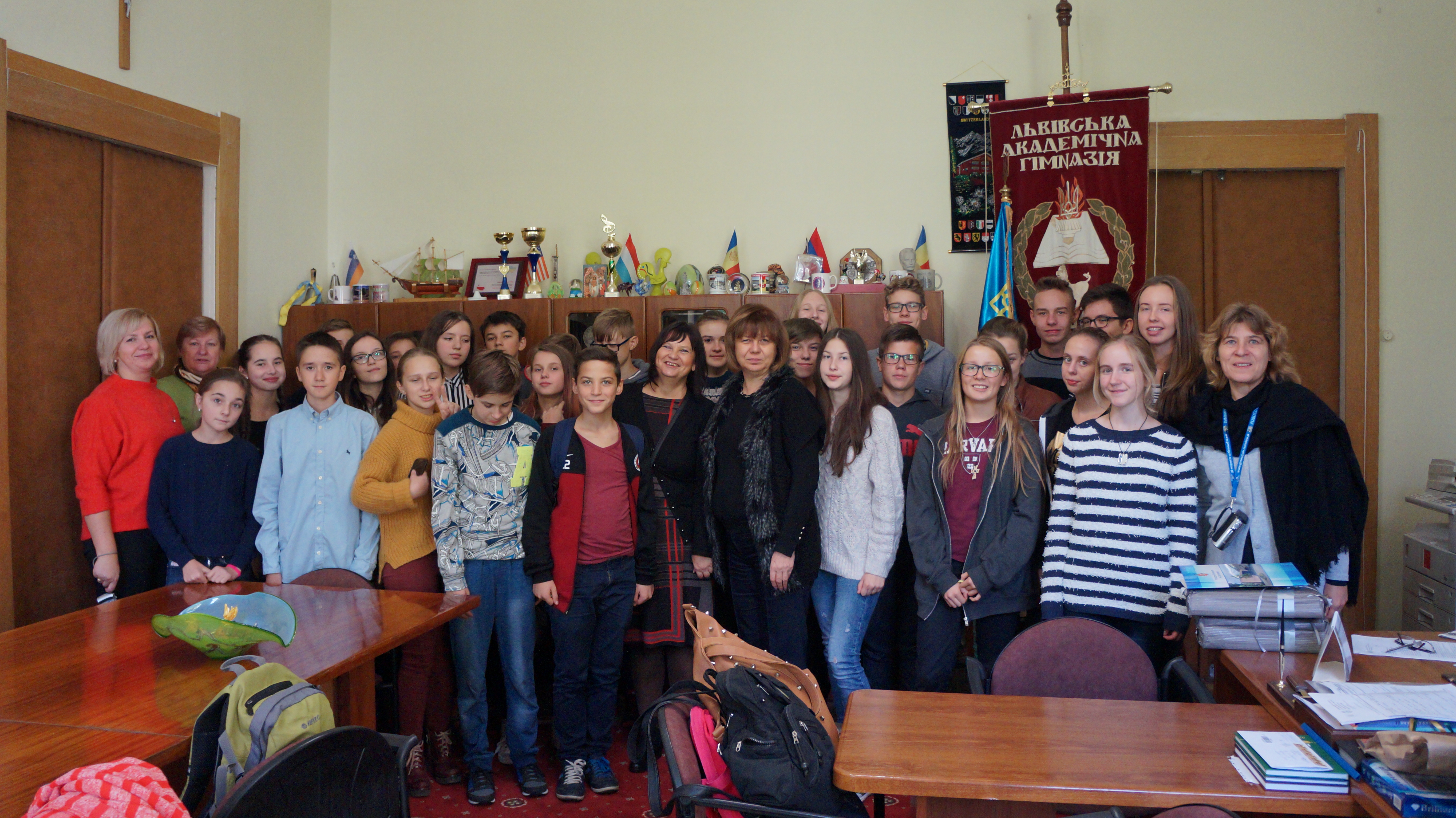 Pora na przygodę!
Pora na przygodę!
7 października 2016 r. wyruszyliśmy w daleką podróż na wschód Europy – na Ukrainę. Podróż trwała około 15 godzin. Po dotarciu na miejsce – do Gimnazjum Akademickiego we Lwowie, ukraińscy partnerzy zabrali nas do swoich domów, gdzie mieszkaliśmy podczas projektu. Resztę dnia spędziliśmy z nowo poznanymi rodzinami.
Na drugi dzień wstaliśmy z mnóstwem energii i zapałem do poznawania pięknego Lwowa, ale najpierw mieliśmy przed sobą niezbyt łatwe zadanie – zapoznanie z całą grupą ukraińską.
Szybko i przyjemnie zleciał czas robiąc wspólnie plakaty, na których przedstawialiśmy różnice i wspólne cechy między Czarnkowem i Polską a Lwowem i Ukrainą. Następnie przeszliśmy do wspólnego zwiedzania z panią przewodnik, która doskonale przedstawiła nam bogatą historię miasta oraz przygotowała wstęp do głównego tematu projektu. Wolny czas po zadaniach spędzaliśmy w dowolnych grupkach z którymi szukaliśmy przygód.
W poniedziałek z samego rana zabraliśmy się do pracy. Najpierw zobaczyliśmy codzienność ukraińskiej szkoły i mogliśmy wziąć udział w wybranych lekcjach. Następnie przeszliśmy do głównej części tego dnia , czyli zdobywania informacji na tematy, które zostały przygotowane przez nauczycielki. Wykonywaliśmy prezentacje multimedialne na podstawie naszej wiedzy.
We wtorek przeszliśmy do drugiego etapu projektu – podróży do Kamieńca Podolskiego. Po 300 km oglądania krajobrazu Ukrainy i przebyciu wyboistych dróg dotarliśmy na miejsce.
Mimo nieprzyjemnych warunków atmosferycznych zwiedzanie rozpoczęliśmy od wizyty w twierdzy. Z naszą panią przewodnik poznaliśmy wiele pięknych miejsc jak i bogate historie związane z państwami, które zajmowały teren Kamieńca Podolskiego. Zmęczeni przyjechaliśmy do hotelu, ale energia wszystkim wróciła, gdy zobaczyliśmy jaki mamy piękny ośrodek. Wieczór spędziliśmy razem grając w gry planszowe i integrując się z naszymi partnerami.
W środę pogoda pokrzyżowała nam plany, ale mimo tego zdołaliśmy zobaczyć ważne dla nas pomniki, kościoły, cerkwie i średniowieczną zabudowę rynku. Następnie miło spędzaliśmy czas wracając do Lwowa; śpiewaliśmy wspólnie piosenki, prowadziliśmy długie konwersacje i bliżej poznawaliśmy się z naszymi rówieśnikami.
Kolejnego dnia czekała na nas świetna atrakcja jaką były warsztaty tworzenia ikon na szkle i zwiedzanie muzeum. Było to dla nas zarówno niezwykłe, nowe przeżycie, które na pewno utkwi w naszej pamięci na długo. Wróciliśmy do szkoły, aby pokazać uczestnikom projektu międzynarodowego efekty naszych prezentacji. Niespodziewanie wszyscy ukraińscy uczniowie uczestniczący w wymianie wręczyli nam prezenty. Zadowoleni mieliśmy ostatni czas wolny, który przeznaczaliśmy na wspólne wyjście na miasto i jazdę na łyżwach. Pełni energii, ciesząc się z całkowitego korzystania z życia wróciliśmy do ukraińskich domów.
W piątek do szkoły wszyscy przyszli zasmuceni faktem, że to już podsumowanie naszego projektu. Załamani nie chcieliśmy wyjeżdżać z tego pięknego miasta, pełnego wspaniałych ludzi. Po pięknym i wzruszającym podsumowaniu nauczycielek ukraińskich i polskich mieliśmy czas na zrobienie wspólnych zdjęć. Wręczyliśmy w podziękowaniu za pobyt Ukraińcom prezenty i nieszczęśliwi musieliśmy wrócić do domu. W trakcie podróży zdążyliśmy się rozchmurzyć: graliśmy w karty, śpiewaliśmy polskie piosenki, śmialiśmy się i nagrywaliśmy filmiki z układem tanecznym, co spowodowało, że podróż minęła nam w mgnieniu oka.
Podsumowując cały nasz projekt międzynarodowy – jest to niesamowita i cudowna przygoda, która ma wielki wpływ na nas. Zawieramy nowe znajomości, poznajemy różne kultury, zwiedzamy cudowne miejsca, a przede wszystkim uczymy się samodzielności. Chcielibyśmy serdecznie podziękować za opiekę w czasie trwania projektu naszym ukochanym nauczycielkom : Bożenie Zembik, Renacie Barnaś oraz Agacie Mazurek.
Artykuł i zdjęcia: Oliwia Dykaw i Zuzia Sakowicz